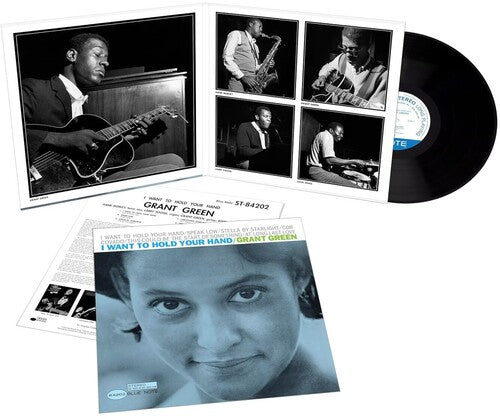 Grant Green - I Want To Hold Your Hand LP (Blue Note Tone Poet Series, 180g, Gatefold Tip-On Jacket)(Preorder: Ships December 1, 2023)
*Please note: This title will ship on or around its release date of December 1, 2023. Date and availability is subject to change. We cannot guarantee the coloring of the vinyl will be identical to the mock-up. We will ship all items in your order when the last title is released and available – so if you would like anything else on your order shipped separately, please place separate orders. Thank you.
Limited 180gm vinyl LP pressing housed in gatefold tip-on jacket. The trio of Grant Green, Larry Young and Elvin Jones had a unique alchemy from the first time they got together on 1964's Talkin' About. For 1965's I Want To Hold Your Hand, they added Hank Mobley to the mix for sophisticated renditions of well-known songs by the Beatles, Antônio Carlos Jobim, Cole Porter and more. Blue Note Tone Poet Series is produced by Joe Harley, mastered by Kevin Gray from the original analog master tapes.