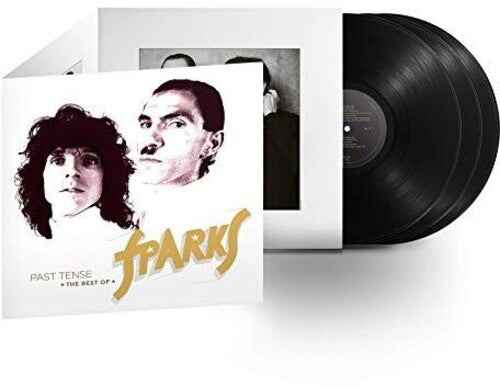 Sparks - Past Tense: Best Of Sparks 3LP
Pickup available at 2235 Fern Street
Usually ready in 4 hours
Sparks - Past Tense: Best Of Sparks 3LP
2235 Fern Street
Pickup available, usually ready in 4 hours
2235 Fern Street
San Diego CA 92104
United States
6197844286
Brothers Ron and Russell Mael grew up in Los Angeles in the '60s, and were obsessed with rock and roll and pop culture. In 1968 the pair decided to form a band. They originally called themselves Halfnelson and signed with Bearsville Records and got Todd Rundgren to produce their debut album which flopped. A name change was agreed and their label suggested Sparks Brothers. From there it was a short edit to arrive at Sparks. Their debut was repackaged and re-released and sold roughly the same, though the single "Wonder Girl" did get airplay in Los Angeles. A second album followed causing even more subdued enthusiasm.
At this point Ron and Russell packed their bags and moved to England. Hooking up with producer Muff Winwood, they were signed to Island Records and formed a new version of the band with British players. The change was just what was needed. From 1974 through 1975, Sparks released the three key albums that most fans still consider a holy trinity of sorts. The single "This Town Ain't Big Enough for Both of Us" was released in 1974 and shot to No. 2 on the U.K. charts. The unlikely hit struck a chord with its glam-affected guitars, triumphant rhythm and far from average vocal style of Russell. This was the first of eight Top 40 U.K. hits in a row for the band.
Sparks moved with the times travelling from glam to pop via big band and hard rock before crashing into both New Wave and disco along the way. By the early '80s, the Maels had moved back home to L.A. and formed yet another version of the band. This time around, they would find some success Stateside with songs like "I Predict" and "Cool Places" (which featured Jane Wiedlin of the Go-Gos).
As time moved on, Ron and Russell became more interested in, and reliant upon, electronics, making a series of more synth-pop albums. Though the music had changed, their sense of humor and wit remained intact. In 1997, they released the album 'Plagiarism', which featured re-workings of old songs with help from such varied sources as Faith No More and Erasure. Some of the songs used full orchestration, which would in part signal their next move. The ground breaking album Lil' Beethoven was released in 2002 to much fanfare. Most fans and critics hailed it their best work since the mid-'70s.
Its success led to a renaissance of sorts which included another strong run of albums culminating in the 2008 series of concerts in London where the band performed every one of their albums in their entirety for a total of 21 nights, leading up to the release of their 21st album, 'Exotic Creatures of the Deep.'