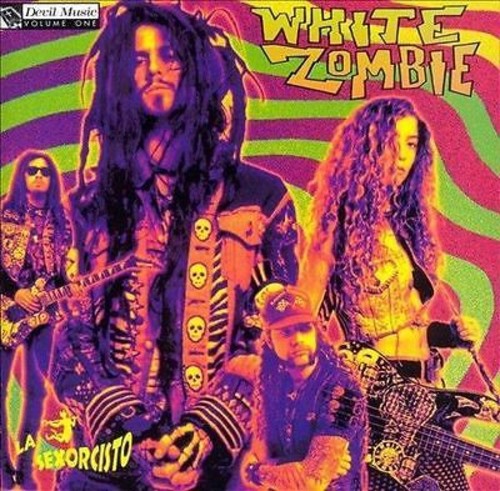 White Zombie - La Sexorcisto: Devil Music Vol. 1 LP (Music On Vinyl, 180g, Audiophile, Reissue)
Pickup currently unavailable at 2235 Fern Street
White Zombie - La Sexorcisto: Devil Music Vol. 1 LP (Music On Vinyl, 180g, Audiophile, Reissue)
2235 Fern Street
Pickup currently unavailable
2235 Fern Street
San Diego CA 92104
United States
6197844286
La Sexorcisto : Devil Music Volume 1was both a critical and commercial success for White Zombie, climbing up the charts in the US and gaining massive MTV video airplay and mainstream rock radio airplay with "Thunder Kiss '65" and "Black Sunshine".
The album's sound is a mix of groove metal and funk metal with lots of B-movie samples. Tactless and continuously shocking, lyricist Rob Zombie reveals blatant tales of muscle cars, sleazy encounters, and Fangoria-mustered fantasy, clearly paying homage to vintage trash culture.
Rob Zombie explained he wanted to "keep a groovable dance element in the music", a trait which is often absent in metal music.
Weak appetites for raunchy, tongue-in-cheek decadence need not apply!
SIDE A

1. WELCOME TO PLANET MOTHERFUCKER / PSYCHOHOLIC SLAG
2. KNUCKLE DUSTER (RADIO 1-A)
3. THUNDER KISS '65
4. BLACK SUNSHINE
5. SOUL-CRUSHER
6. COSMIC MONSTERS INC.
7. SPIDERBABY (YEAH-YEAH-YEAH)

SIDE B

1. I AM LEGEND
2. KNUCKLE DUSTER (RADIO 2-B)
3. THRUST!
4. ONE BIG CRUNCH
5. GRINDHOUSE (A GO-GO)
6. STARFACE
7. WARP ASYLUM